[Webinar] Live Q&A with St. Francis Law Students
Join us Wednesday, September 8th, 2021
6 p.m. PT / 9 p.m. ET
There are many reasons students choose to earn their JD at St. Francis School of Law. In this live webinar, you'll meet four current St. Francis Law students and hear about their unique journeys to law school.
You'll hear:
What prompted them to pursue legal education and earn their JD
Why they chose to attend an online law school
How they've balanced the demands of law school with their work and families.
Afterwards, you'll have the opportunity to engage in live Q&A with each student.
St. Francis Students You'll Meet
Walter Bond is a second-year student at St. Francis. He works in banking, at a senior level. He has a Six Sigma black belt from Drexel University, an MBA from Fairleigh Dickinson University, and a B.S. in Economics from the University of Memphis.
Michelle Dente is a fourth-year student at St. Francis. She is Executive VP of HR at a large services and property management firm. Her MBA is from California State University Dominguez Hills, and her Bachelor of Science in Business Management is from the University of Phoenix.
Julie Kang Harvey is a third-year student at St. Francis. She is a music educator, and lately, a legal intern at the Contra Costa County District Attorney's office in suburban San Francisco. Her Doctorate of Music Performance is from the University of Georgia. She has a Master of Music in Piano Performance from Georgia State University, and a Bachelors in Music from the University of Toronto. A long time ago, she was a scholarship student in piano performance at the Juilliard School.
Zach Worsley is a third-year student at St. Francis. He is a Doctor of Dental Surgery with a practice in southeast Texas. His DDS is from the University of the Pacific, and his MBA is from Sam Houston University.
Meet Your Host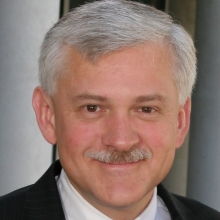 Greg Brandes, Dean of St. Francis School of Law
Greg Brandes is a professor of law and dean of St. Francis School of Law. He is the former dean of Concord Law School and San Francisco Law School, and is a widely known expert on law school teaching and learning, with an emphasis on assessment and distance education. Along with other founding administrators, he developed the teaching and learning for Concord Law School, including innovative online courses, online classrooms and assessment models that are widely recognized as best practices.
Greg received his JD from Loyola University Chicago School of Law and a BA from Marycrest College. He is a member of the state bars of Colorado and Illinois, and is admitted to the bar of the United States Supreme Court.