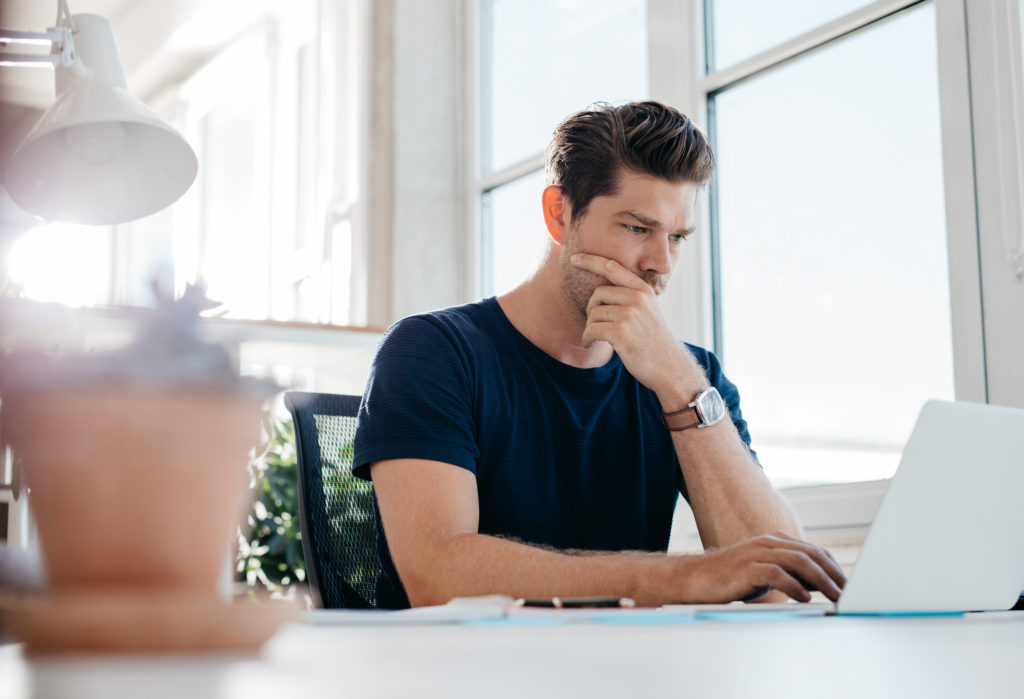 Going to law school as a mid-career or senior professional can be extremely rewarding. Whether your goal is to become a lawyer or expand and apply your legal expertise to your existing profession, an online program can allow you to continue working full-time and earn your JD.
However, earning your law degree online requires dedication. You may think to yourself:
Can I go to law school and work full-time?
How difficult is law school?
Will I succeed in online courses?
Below are some questions to ask yourself to determine if online law school will be a good fit for you.
Do you enjoy learning?
Law school requires a thirst for knowledge and a willingness to delve into dense legal texts and cases to gain a comprehensive understanding. You should possess a curiosity for exploring multiple topics, including:
Torts (civil lawsuits)
Contracts
Criminal law
Property law
Civil procedure (the rules of court)·
Constitutional law
Legal research and writing
Professional responsibility
These topics typically comprise the foundation of law school, along with evidence (rules for litigation and trial courts) and criminal procedure (rules for criminal prosecution and defense). At St. Francis School of Law, our curriculum includes alternative dispute resolution, law practice management, compliance, intellectual property, federal income taxation, bankruptcy, and other courses that cover practical skills for becoming a lawyer.
Having excitement about all of these topics isn't necessary; everyone has different interests and plans for how they will apply their legal education upon completion. However, what is important is that you possess a thirst for knowledge and motivation to learn.
Do you possess superior reading, writing and communication skills?
Since you will pore over case studies, legal textbooks and other written materials throughout law school, having strong reading comprehension is critical to law school success. Fortunately, legal writing and research is a topic that is covered extensively in the St. Francis online law school program. We ensure our students have the writing skills necessary to become a lawyer.
Do you have a good memory?
In online law school, you will read many texts and cases that you will then have to discuss and apply the next day in a live lecture or use in your homework assignment. Having the ability to remember the details of a case or the workings of an argument and implement that knowledge will make you a better law student.
Do you enjoy analysis?
Does breaking down an issue into pieces and then applying rules and arguments to those different components sound fascinating to you? Being skilled at analysis is another factor in law school success. In law school, you will learn how to apply forms of argumentation to a variety of situations. In online law school, simply regurgitating information is not good enough to really succeed. You have to be able to master the concepts on a deeper level of understanding so that you can apply them, and demonstrate that ability in live classes.
Do you have an open mind?
Being able to see both sides of the argument is an essential component of becoming a good lawyer. You can't rely on your professor to give you the right answer; rather, you must be an independent thinker who can investigate, think for yourself, and formulate the argument for your position.
Can you work independently?
Law school is very different from undergraduate school. You will not be spoon-fed information; instead, you will be expected to own your education and academic success. The best online law students are good at taking the initiative to reach out to professors and fellow classmates and truly engage in the learning. With an online law school, you will own your education, while getting a lot of hands-on support. . You'll be at your best if you become a steward of your own education and go the extra mile when it comes to studying and preparing for your classes.
Do you have good study habits?
Speaking of studying, having good study habits is critical to law school success. While the usual study methods of taking notes, paying attention in class, and asking questions are important to get the most out of your courses, in law school, you must also stay on top of the reading and make your own outlines of the law you are studying. In addition, online law students often form study groups with their digital peers so that they have friendly and professional support network when they graduate.
Do you have a quiet space?
While this may not seem like a big deal, it's actually very important for online law students to have a place where they can focus. Having an office or other private study area is necessary so that you can focus despite distractions; for example, children being around. In addition, you'll be more likely to actually study in your dedicated study space compared to your bedroom or living room because you won't be tempted to watch TV or indulge in other distractions.
Do you have good time management?
One of the benefits of earning your law degree online is that you do not always have to physically attend class at specific times, depending on the class format of the online program.
However, that also means you have to have solid time management skills to stay on top of the reading and assignments. If you are able to prioritize your tasks, abide by a study schedule, and stay organized, you will be able to balance your homework with your job and stick to the deadlines.
Can you commit to a program for 3-4 years?
Traditional full-time law schools take three years and part-time programs take four. The St. Francis School of Law online program takes four because, mostly,you take one course at a time so you can focus your full attention on the topic. The program was designed to fit in with your work schedule.
Are you ready to apply for online law school?
The St. Francis School of Law provides an online JD program designed for full-time professionals. That means our rigorous curriculum is matched by an interactive online learning environment developed for your success. Discover why you should choose St. Francis.