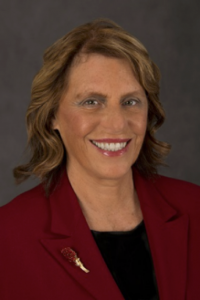 St. Francis School of Law is pleased to announce that attorney Susan Morgan has joined the School of Law's Advisory Council. Morgan is the principal of Morgan Legal Services, a San Francisco law firm serving the legal needs of entrepreneurs. She is also Of Counsel with Walker Corporate Law Group, PLLC, a firm specializing in the representation of entrepreneurs, with offices in New York, San Francisco and Beverly Hills. Morgan, a California lawyer, has more than 15 years of sophisticated corporate law experience including seven years with Fenwick and West in Silicon Valley where she closed more than 30 financings totaling over $100 million. In addition to financing, her expertise includes business and commercial contracts, mergers and acquisitions, securities law compliance and intellectual property protection. In November 2014, Ms. Morgan was elected to the Board of Directors of the Ironhouse Sanitary District, where she is currently serving a four year term.
Ms. Morgan is a graduate of the University of California at Los Angeles, Magna cum Laude, where she earned her Bachelor Degree in Quantitative Psychology. She also holds a Master Degree in Cognitive Psychology from UCLA. She graduated from Santa Clara University School of Law with her Juris Doctor degree. At Santa Clara, she served as Vice President and Director of the Santa Clara University Intellectual Property Association. Her experience as a second career law student in a part-time program provides valuable insight for the St. Francis juris doctor program, where many students have substantial career experience prior to entering law school.
A successful entrepreneur, Ms. Morgan co-founded SoftView, where she served as Chief Executive Officer. Softview was a software company that produced the income tax preparation product known as "MacInTax." Softview was acquired by Chipsoft, producer of Turbotax, which itself was later acquired by Intuit, the maker of Quicken. Morgan is also the Chief Executive Officer ofEquilytics, Inc., a private company that produces tools for Venture Capitalists, law firms, investment banks and VC-backed companies. (www.equilytics.com). Equilytics developed the analytical tool "MergeComp," used to compute and model distributions of proceeds to shareholders in connection with mergers.
Ms. Morgan also has extensive experience in legal education. She has been a guest lecturer for several years at the University of California, Berkeley, Haas School of Business, Entrepreneurship Program, in the areas of start-up and corporate transactions and intellectual property protection. She has also lectured on a wide range of legal issues to a variety of organizations. She also served as an adjunct professor at Golden Gate University School of Law teaching "High Technology Startups: Business and Legal Issues." Ms. Morgan also taught as an adjunct professor at the John F. Kennedy School of Law, where she taught Business Associations and Intellectual Property. Her expertise in educating lawyers will support the continuous improvement to the St. Francis curriculum.
St. Francis aims to train students for the actual practice of law. Ms. Morgan will bring her tremendous legal expertise to this mission through her participation on the St. Francis Advisory Council. The Council serves to help inform St. Francis regarding the real world practice of the law, advising the school regarding establishment and implementation of its strategy and the development of its cutting edge curriculum. St. Francis' aims to provide students with an education that enables them to apply the law in a practical, meaningful way, in the real world through skills-based instruction delivered by professors who are highly experienced legal practitioners.