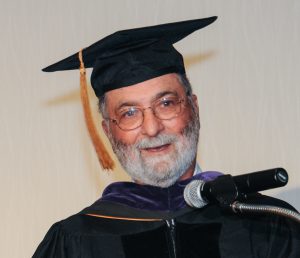 (Presented by Professor Michael White to the Class of 2016on April 23, 2016.)
When I was invited to be part of this graduation, I was thrilled. Unaccustomed as I am to public speaking, and really not knowing what should be the focus of my remarks, I resorted to the resources that we often turn to, of course. The wisdom of others.
First, I read a poem by Mary Oliver that I often read. As a resident of Provincetown, Massachusetts, at the tip of Cape Cod, the imagery of the ocean is common in her writing. This poem is one that speaks to me, and I hope has some meaning in your lives if you have not heard it before. It is called, "I Go Down to the Shore."
Next, I went to YouTube and listened once again to Steve Jobs' commencement speech that was made at Stanford University in 2005, a year after he survived his first bout with cancer. He concluded with the exhortation, "Stay hungry, stay foolish."
My guess is that you exposed yourself to the rigors of a four year commitment at St Francis because there was a hunger in your soul for something you desired. I would guess that for each of you, that would have been something different. I know, each of you, when you made your commitment, was a mature adult, involved in the rigors that accompany a life of responsibilities.
I recall when my wife, at fifty years of age, announced she was going to return to school for a Masters' Degree in Marriage and Family Therapy. When told it would be two years of school plus 3000 hours of internship, our oldest son exclaimed, "But do you know how old you will be by then?" My wife's response was "Well, I can be that old without the license as an MFT or I can be that old with one." What drove my spouse was a hunger. My son did not understand and thought it sounded foolish. But my wife is now a very busy, licensed MFT who is happy with her new career.
Third, I turned to the Bible. "Blessed are the peacemakers, for they will be called children of God." (Matthew 5:9.) This year, Dean Buckner asked me to develop a course in Alternative Dispute Resolution. When I was in law school, centuries ago, the word "settlement" was almost never said out loud. We knew that 95 percent of lawsuits filed had to be settled—the resources to try more than that simply did not exist and trial court overload was a chronic problem.
When I began the practice of law in Los Angeles in 1974 after leaving the military, normal time to get to trial was 5 years. Why did it take so long? Because there is a statute requiring dismissal of a case if not tried within 5 years. Had the statute been a 6 year requirement, no doubt it would have taken six years to get to trial. Everything was just put off and put over. During the 1980s and 90s, the problem was addressed and time to trial in California was reduced to one year for most cases and two years for nearly all. "Rocket-docket" we called it. Unfortunately, it just took a major financial crisis and reduction of court budgets to get us back to a near 5 year wait yet again.
In my law school curriculum, there was nothing about learning the skills of negotiation or settlement—the word mediation was not used at all. The only valued image of lawyer in my law school class was the trial lawyer. In the end, how many of us became trial lawyers? I know I did, and I suffered with it—except when I won. Then there is nothing like the joy of victory. But there is a cost to litigation beyond the economics—a spiritual cost. I recall a wise judge telling me that litigation was like wrestling a gorilla; you don't rest just because you get tired.
I worked for five years in a graduate program in Negotiation, Conflict Resolution, and Peacebuilding. That experience convinced me that there is a revolution in process in the preparation for law school as a number of the graduates planned to move forward to the law school, adversarial environment, but armed with an understanding of negotiation and settlement skills.
I am so pleased to have been asked to be a part of that revolution as we introduce conflict resolution skills into the law school curriculum. How wise, in my view, we are at St. Francis to offer to students the opportunity to learn the skills that will be applicable to 100% of cases, not just those that end up in trial; and to enhance the understanding of the adversarial process by adding the wisdom that collaboration, joint problem solving and interest based negotiation can bring to the table.
So having reached out for the wisdom of others at times like these, I then asked, what could I say on the day of your graduation, the day when you receive the Juris Doctor Degree.
Whether you take the bar exam and pass it or not; whether you ever practice law in any form – litigation, transactional, in academia, business, or not at all: My hope is that you have learned the analytic skills that allow for rational problem solving—and my wish for you is that you become a peacemaker in every aspect of your life.
Good luck to each of you and congratulations on your having earned the degree of Juris Doctor.