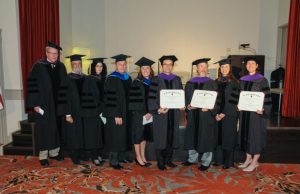 On Saturday, April 23, 2016, in San Francisco, St. Francis School of Law held it commencement ceremony for the Class of 2016. Dean Carole J. Buckner presided over the graduation ceremony. She praised the graduates for their intellectual endeavor, their perseverance and the character each of them exhibited throughout their four year journey in the Juris Doctor program.
Mary Elizabeth McCaffrey graduated with her Juris Doctor degree. Ms. McCaffrey graduated Summa Cum Laude. She spoke at the ceremony, thanking her family for their support, and the St. Francis professors. As the class valedictorian, Dean Buckner acknowledged her accomplishments, her ability and integrity through four years of diligent effort in the St. Francis J.D. program.
St. Francis graduate Charles Cresson Wood also earned his Juris Doctor degree, graduating Magna Cum Laude. Mr. Wood also addressed the gathering, celebrating being able to earn his degree from the St. Francis online Juris Doctor program. His fellow graduates praised Mr. Wood's stellar contributions to the online classroom throughout their education.
Hai Nguyen also received his Juris Doctor diploma in the ceremony, and spoke during the commencement, thanking his family for their support. All three graduates enjoyed meeting with each other personally after spending four years face-to-face in the online learning environment.
Professor Michael White gave an address saluting the first graduating class. His address focused on peacemaking in dispute resolution. He is a graduate of UCLA and University of Oklahoma and has taught Alternative Dispute Resolution, Civil Procedure, and Community Property at St. Francis.
The president of St. Francis, Dr. Bart Daig also participated in the commencement ceremony and awarded graduates their diplomas. St. Francis' Chief Academic Officer Dr. Jill Langen also gave a welcome address to the graduates, families and guests. St. Francis Advisory Council member Tod Zuckerman also participated in the ceremony. The St. Francis Advisory Council, a diverse group of highly experienced attorneys, provides direction to the St. Francis J.D. program.
Faculty, graduates, friends, and families celebrated with a reception following the ceremony to conclude this important milestone for each of our graduating students, and for the St. Francis program.