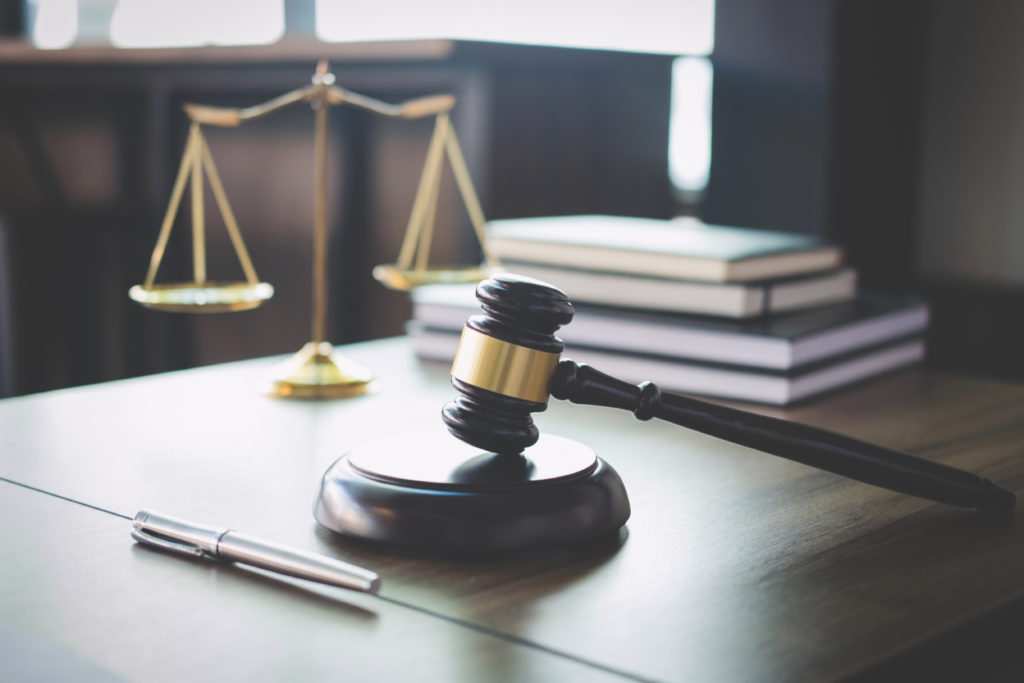 When choosing a law school, there are several formats for a comprehensive education: hybrid programs, online learning, and traditional day or evening in-person classes.
Working professionals can attend law school while maintaining full-time jobs, but the type of program makes a difference. This article examines hybrid programs, one of the newer types of law schools.
A hybrid program is where some courses, or parts of courses, are taught online and students come to campus in-person for shorter periods of time (weekends or week-long intensives or residencies.) It combines the flexibility of distance learning with some mandatory in-residence learning, which some prefer because of the in-person contact with faculty and other students. Of course, the details of the calendar and the format will vary from school to school.
The Pros
1. ABA-Accredited Hybrid Programs Are Now Available in Some States
The American Bar Association (ABA) does not accredit fully-online JD programs — yet. However, several law schools — and more are coming — now provide hybrid learning programs that are ABA-accredited and allow students to take the bar exam and be licensed in states other than California.
Schools with approval for these programs include Syracuse University College of Law (New York), Mitchell Hamline College of Law (Minnesota), University of New Hampshire, University of Dayton (Ohio), and Southwestern Law School (which has opted not to offer a program at this time). To be certain if the bar in your state will allow you to take the exam with a hybrid degree, you should contact them. Some states, such as New York, have limitations.
Bar admission requirements can be found here.
2. Hybrid Schools Are Easier to Schedule Than Traditional Schools
Hybrid and online programs were invented to work around a typical 9-to-5 work schedule. Online and hybrid programs avoid the daily double commute of leaving work, going to school, and then going home. This saved commuting time prevents some of the rush to get to scheduled evening classes and often negates the need to leave work early.
The on-campus intensives of hybrid programs are either on the weekends or for a week or two. The schedule is determined in advance so vacation time can be requested early. Generally, one would not be expected to do a week-long residency more than three times a year.
A hybrid program is generally the same length as a traditional four-year evening program. This allows less class time during the week and more balance outside of school and work than if completed in the traditional full-time three-year programs.
3. Location is Less Important in Hybrid Schools
Not everyone lives near a law school. This is especially a problem for those residing in rural areas. Driving to class simply may not be feasible. Online law schools negate this problem. With hybrid programs, there is still an aspect of travel. However, travel is not frequent (and you can probably avoid rush hour). Further, you do not have to move. Going to a traditional school can mean relocation across the country. In a hybrid program, you can do most of your work on your computer.
4. Course Content is Comparable to Traditional Programs in ABA-Approved Programs
The core curriculum is pretty standard across accredited law schools. Courses typically include Torts, Contracts, Constitutional Law, Civil Procedure, Criminal Law, Property, Professional Responsibility, and Legal Research and Writing. Online programs also offer these courses because these topics are either on the bar exam or are necessary for the practice of law. Hybrid and online programs may offer Federal Income Taxation, Trusts and Estates, Criminal Procedure, and other classes necessary to make you a well-rounded lawyer.
Courses are either taught by practicing attorneys or legal scholars. The quality of faculty varies by school and course, not specifically whether a school has online or on-campus courses. You can have great teachers online or in the classroom.
5. The Socratic Method is Used Less in Hybrid Programs
While there are many ways of teaching the online component, students will not be sitting in a classroom as much in a well-designed online or hybrid program. That's because thoughtful curriculum design includes other ways of learning content and skills, such as projects and simulations.
Students in good online and hybrid programs spend less time worrying they will be called on without warning. The Socratic method is a staple of law school, and can be a white-knuckle experience. Some professors still use this teaching method through teleconferencing, so students in online and hybrid programs don't miss the experience. But, not everyone is going to be a litigator, grilled by judges. Many attorneys are in the transactional field. A well-designed online or hybrid program balances the value of this experience with other priorities — like covering all the material — to improve the overall learning experience.
5. Hybrid Schools are Innovative
In many respects, pedagogy at traditional law schools remains locked in an earlier century.  Professors demand recitations in class and give one exam at the end of the term, just as Professor Christopher Columbus Langdell did at Harvard Law School in the late 1800s.  Many schools hire scholars as faculty, who get fired if they do not publish enough regardless of the quality of teaching. In online and hybrid programs, careful, intentional curriculum design combines modern learning activities and assessments with centuries of law school content to create an innovative format that enlivens the law and the learning process.
The Cons
1. Hybrid Schools Can Be Expensive
The cost of attaining a J.D. varies widely. However, going to a completely online school will often be more affordable than a hybrid program or a brick and mortar school. With a traditional school, students pay for the buildings and sometimes an expensive full-time faculty devoted to research, not teaching.  They may also have to pay relocation and/or commuting costs, depending on where the buildings are located. Some schools, such as St. Francis, are entirely online and that is reflected in the cost. Hybrid programs can be more expensive because students are paying to be on-location for short periods of time — still paying for those buildings, which are used even less — and need to pay associated lodging, food, and travel costs in addition to tuition.
One of the benefits of a hybrid, online, or evening program is that professionals can do it while they work and may be eligible for tuition assistance from their employers. Also, by maintaining a job while going to school, they may be eligible for tax deductions and credits, effectively lessening the cost of tuition, according to the IRS.
2. Short-Term Emergencies Can Delay Graduation in Hybrid Programs
Emergencies happen: A child gets the flu or an employer sends you out of town unexpectedly, resulting in missed class time in traditional schools or entire residencies in hybrid programs. Live classes in these settings are not recorded, and the chance may not come around again for another year.  In some instances, you might have to wait a year to take that residency, thereby adding at least a semester to graduation. Plus, what was missed might not be refundable in tuition, lodging, or travel costs. Your hybrid education has just halted, whereas in an online, you could make up the missed time.
3. Hybrid Schools Offer Less In-Person Interaction with Faculty and Students than Traditional Schools
Some students learn better in live classes, making a fully online program untenable for them. Traditional schools and hybrid programs can be better for these learners, if they can make them work. But beware: some hybrid programs have little or no faculty or fellow student contact — by video call or in-person — between residencies.
4. Fewer Course Choices in Hybrid Programs
Hybrid programs are relatively new and may not attract the number of students necessary to justify offering the large variety of courses that online and traditional law schools may offer.
Is a Hybrid Program Right For You?
Whether you choose a hybrid, online, traditional, or evening program, make sure the program you choose will allow you to take the bar in the state that you want to practice in and that the program schedule can work for you.
Be sure the school has a solid bar passage rate. You want a  rigorous program that will enable you to practice law when you are done with the degree. Investing in a law school education is a smart move, but be sure it is the right program with the outcomes you want. At St. Francis School of Law, our cumulative pass rates on the First-Year Law Students Exam, and the California General Bar Exam demonstrate that our students are getting the rigorous education they need. Check out the cumulative rates on our Pass Rates page at: https://stfrancislaw.com/academics/pass-rates/.